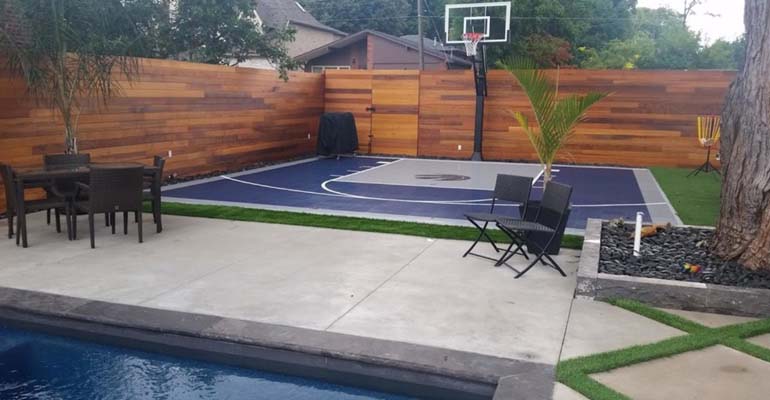 When 40 million monthly unique users that comprise the Houzz community choose you from among more than 2.1 million active home building, remodeling and design industry professionals, it says something. Our indoor and outdoor sports flooring and equipment solutions company, Total Sport Solutions Inc. of Oakville, ON, has won the 2019 awards for "Best Design Canada – Outdoor Landscape" and "Best Customer Service" in our market, on Houzz, the leading platform for home renovation and design.
We chatted with our owner, Ian Lintott about the company's latest distinction and recognition in the industry. Here is an excerpt of our conversation:
Winning the Houzz "Best of Design" and "Best of Customer Service" for 3 years in a row is quite an achievement! What steps do you follow to maintain the high standards that enable Total Sport Solutions to consistently win this award?
This is the first time we have won "Best Design" and the 3rd year in a row for "Best Service". We are grateful, happy and proud to receive this recognition. Our goal is to provide excellent service for all our clients and to continually improve on this. It is explained and emphasized to all employees from Day 1 that customer service is a priority. We already know we have the best products and if we can provide the best service (something we have complete control over) we can't lose. If, by focusing on high standards and exceeding customer expectations, we qualify to win prestigious industry awards, that is a valuable outcome, but it is not and will never be the reason we want to always do our best.
For customers of Total Sport Solutions, what is the significance of this award? What does it mean for them to work with an award-winning supplier like you?
For many, winning an award is like wearing a badge—it looks good. However, we believe that it must mean something of value. Because Houzz is an industry-wide and well-respected community, winning awards for design and service from this organization carries weight. It should reassure our customers that they are dealing with a company that takes pride in their work and is focused on providing the best value to all our customers.
Does wearing the "Best of Houzz" badge bring added pressure and responsibility in a competitive market? Would you say it provides an advantage in your branding, marketing communications and sales - does it influence sales?
I don't believe that winning an award brings more customers to your door and converts more sales. On the contrary, if you provide top quality products and service, you will attract more customers and those happy customers will spread the good word. This may eventually help you win awards; not the other way around!
We are extremely proud to be recognized and to win the Best of Houzz awards. It is a TEAM effort and I like to say that Total Sport Solutions has the "A-Team"; everyone is at the top of their game and doing the best we can for our customers. We are proud to display the awards on our website and social media to boost our branding, but we do not feel any pressure to repeat and continue to win awards. We are doing our best. We will always do our best. We are not providing excellent service to win awards. Instead, we are providing excellent service and value to our customers because it is the right thing to do. It is how we would want to be treated if we were the customer and we will continue to do even if we didn't win an award for it.
Follow Total Sport Solutions on Houzz.