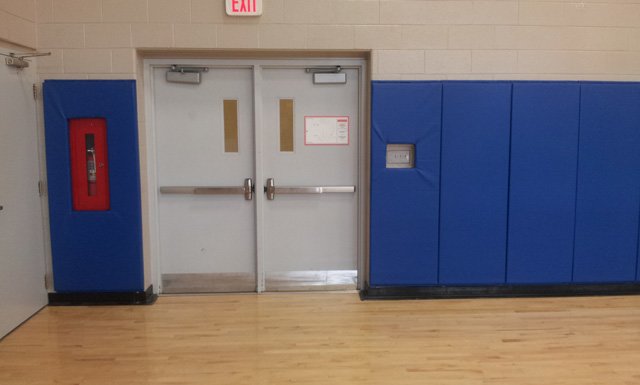 Protective padding is essential no matter where you play. Your school gym, the gym in your local church, mosque or other places of worship, the gym in your condominium, your local community centre, sports facility or even your home basketball court! Padding should never be overlooked.
There can be a lot of fast paced action in a gymnasium so it is essential that your gym, and the individuals who use it, are protected. Gym padding can help by protecting athletes from impact when they are so focused on the game they forget where they are! The closer the action is to the walls or columns the more important the need for padding. Safety should never be overlooked.
The right padding not only protects the players, it also protects your facility and keeps the wear and tear from all the people and their equipment to a minimum.
Taking the appropriate precaution to use gym padding is an investment not only in your facility but also the athletes that use them. Total Sports Solutions can help you get the right protection for your sports arena.
4 Types of Gym Padding
Protect your athletes, visitors and facility with the right padding:
Gym Wall Padding: Available in a permanent or a removable style, wall padding creates a shock-absorbing barrier between the wall and the person coming into contact with it. While a 2" thickness is standard there are times when thicker padding is warranted. We can discuss this with you. Of course, customized pads that allow for electrical outlets, light switches and thermostats etc… are a necessity and we will be happy to look after this for you.
Stage Edge Padding: If you have a stage at the end of your church or school gym, then protecting players from the sharp corners is a must. Stage front padding can be customized to fit securely on the edge of your stage and still allow for access below the stage.
Column Padding: Any sporting facility that has columns needs to have them surrounded with padding. We can provide protective padding for any shaped column or beam. Even aerobic rooms or kickboxing studios need to consider protecting people from accidentally colliding with a column.
Gym Floor Padding: Yes, they are commonly known as floor mats, gym mats or gym floor covers, however, they too are a form of padding and important for protecting your floor as well as the participants. If your church gym also serves as a multi-purpose facility for events such as gymnastics, child care, wrestling or tumbling, then gym floor padding is essential.
Find the Right Padding for Your Gym's Needs from Total Sport Solutions, Inc.
Choosing the best padding solutions for your gymnasium or multi-purpose facility can seem overwhelming. Let the experts at Total Sport Solutions find the right solution for your needs. We offer gym pads in either Marafoam #110 or Trocellen pads covered in an 18oz vinly available in many colours. We can even do logos on your padding! Custom sizes and shapes are not a problem. When you contact us, we can help you determine the best thickness and style of pad based on the uses of your gym.
Whether you want to put up permanent or temporary padding. Whether you need to protect your walls, stage, columns or floor, we have the products and expertise to keep your gym and athletes protected for years to come.
Keep your athletes, students, and visitors safe from injuries by installing gym padding in your gym, arena, wrestling room, gymnastics room, community centre, church or condominium gym. We have even installed padding in car dealerships and warehouses to protect cards and equipment!
Total Sport Solutions is your single source for any gym floors project in Canada. Call us today at 1-866-718-9178 and receive a free quote on your project.