Basketball Facilities
At Total Sport Solutions, we know basketball courts. Our experience in the industry spans small training areas to huge multi-court facilities. From 600 square feet to more than 15,000 square feet, we've floored it all.
Beginning a new project can seem overwhelming, but our team of experts is here to build your game plan to create the perfect indoor basketball facility. We work closely with you to understand your vision, design a plan to fit your space and your budget, complete the installation and troubleshoot any problems that may arise along the way. Total Sport Solutions is here to turn your dream space into a reality.
We know that flooring is one of the most important aspects in any facility. Our commitment to excellence means we partner with companies whose flooring is approved by the FIBA. This includes SnapSports® athletic surfaces, Junckers Hardwood and cushioned vinyl flooring.
Don't make a rookie mistake: To be your best, you need to play on the best. We promise durable products that will withstand the tough demands of serious game play. Bring the quality and performance of a professional court to your community.

Multi-Sport Gyms
Often gym floors are for multiple sports and our Team of professionals at Total Sport Solutions will take your dream and prepare a scale drawing show exactly how your gym floor will look with the multiple game lines required.
We offer a variety of sport surfaces for your multi-sport facility including sport tiles, pad and pour, hardwood, rolled vinyl, and rubber. We will work with you based on your needs, dreams and budget to provide the best solution for your facility.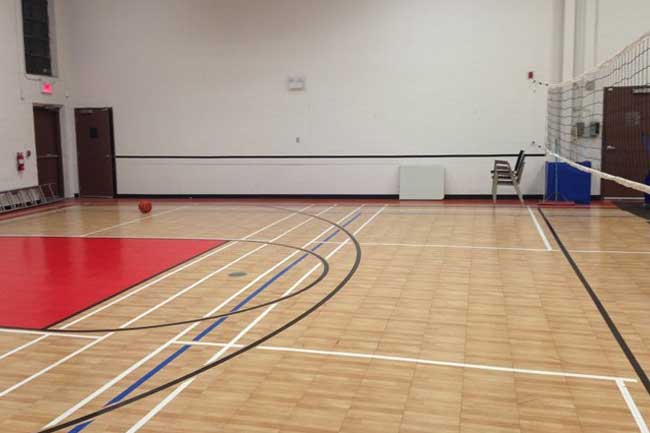 Multi-Purpose Rooms
Flooring for multi-purpose gyms needs to hold up to multiple sports as well as the rigors of non-sporting events that may include events such as meetings with tables and chairs and bake & rummage sales. Common events for churches, mosques, community centres and schools.
Regardless of the floor, we always recommend a gym floor cover to protect your investment, however, we will work with to go over the best solutions for your facility based on your needs, dreams and budget.
Workout Rooms
Exercise machines, stationary weight equipment, free weights, powerlifting and plyometric training. Each has a different requirement as far as rubber flooring is concerned and the professionals at Total Sport Solutions will help you navigate the options to come up with the best solution for your facility.
We offer the common institutional black rubber with colour fleck, however, if you are looking for rubber flooring with some colour, flooring that will compliment your décor and your personality one of our flooring experts will discuss the possibilities with you. And yes, our flooring is odorless.


Futsal Courts
SnapSports has answered the call of futsal, one the fastest growing sports in the world. This fast-paced variation of indoor soccer demands consistent ball speed and superior traction for player performance.
Creativity and technique are essential for the game and ball passing and foot control make the difference in winning or losing, that's why the U.S. Futsal Federation (USFF) chooses SnapSports as the official athletic surface for all their indoor competitions.
Our futsal flooring are purpose built for facilities and organizations like recreation centers, soccer clubs, and gyms. We offer several different types of sports flooring tiles that are excellent to play on, reduce impact, and are a "snap" to install. Contact one of our flooring professionals to go over the best solutions for your facility based on your needs, dreams and budget.
At Total Sport Solutions, our expert team goes beyond the build to find the solution that's right for you. From consultation and design, to build, and final installation, we prepare the game plan to turn your big dreams into reality.
Let's discuss the possibilities! Call 1 (866) 718-9178 today!
Sign Up
Receive our newsletter with updates and special offers