When it is time to rehabilitate your fitness room, school gym, or retail store, a critical component is the choice of flooring. Depending on the use of your facility, you may need your floor to withstand skates, gym equipment, and the wear from individuals running and jumping on it. Perhaps you need some sound reduction capabilities for the space where your new flooring is to be installed. Maybe you have people or employees standing for long periods of time and could benefit from an option that is specially engineered to provide relief from sore feet. No matter what factors are important to you while evaluating available options, high quality, recycled rubber flooring is a fantastic choice to think about.
At Total Sport Solutions, we help you find the best solution for your specific needs. We work with a variety of flooring suppliers to provide you with options for your facility. Our main goal is to offer the best products including those from leading Canadian manufacturer, Dinoflex.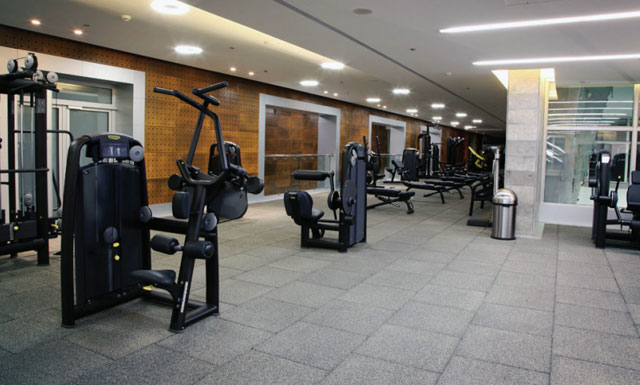 3 Benefits of Dinoflex Recycled Rubber Flooring
When choosing the best product for your school, gym, church or mosque, do consider quality rubber flooring. A leader in the recycled rubber industry, Dinoflex offers an excellent choice. Consider these benefits:
It can last for 20 years or more: If you are looking to get your money's worth on your next flooring upgrade or new installation project, a recycled rubber floor delivers exceptional value. When correctly installed and maintained, it may last for more than 20 years. The long lifespan significantly reduces the cost of waste and replacement. Total Sport Solutions proudly offers Dinoflex manufactured recycled rubber flooring which is virtually maintenance free and built to last.
It can be customized: For over 25 years, Dinoflex has been a leading innovator in manufacturing recycled rubber products. That includes providing customization for your flooring choices. Just pick your colours, choose your ratios, and mix to create your personalized swatch. Design contrasting areas to section off your facility floor. Showcase company or school logos and brand elements as produced by waterjet cutting technology.
It stays flat: When rubber goes through the manufacturing process, it naturally wants to return to its original form. By its nature, rubber flooring will always want to go back to its natural state and curl. Dinoflex uses a unique process to manufacture rubber flooring in such a way that it stays flat. They call it Made Flat Stays Flat™ - Guaranteed not to curl!
Choose Your Recycled Rubber Floor from Total Sport Solutions, Inc.
Find the best recycled rubber flooring for your school, fitness centre, or centre of worship with help from Total Sport Solutions, Inc. Whether you need sports mats, fitness tiles, or high impact flooring, we have the expertise to help you make the right decision and gain years of enjoyment. Enjoy the benefits of a long-lasting, customized rubber floor made with Canadian technology. Not only can you save more and use longer, but you will also reduce your carbon footprint by supporting recycled products.
Total Sports Solutions is your single source for recycled rubber flooring in Canada. Call us today at 1-866-718-9178 and receive a free quote for your flooring installation project.