There is a movement making its way across Canada and the United States. You can even find it growing in Europe and Asia. It involves paddles, a wiffle ball, and a net. Many find that this movement feeds their need for fun with a bit of friendly competition. The oddest part is the name; it sounds like something you would pick up at your local deli, not down at your town's park. If you have not heard of it before, you are in for a treat. Pickleball is an entertaining sport catching the fancy of all ages. Go ahead – grab a paddle, and your grandma, and head down to the nearest pickleball court to see what the fun is all about!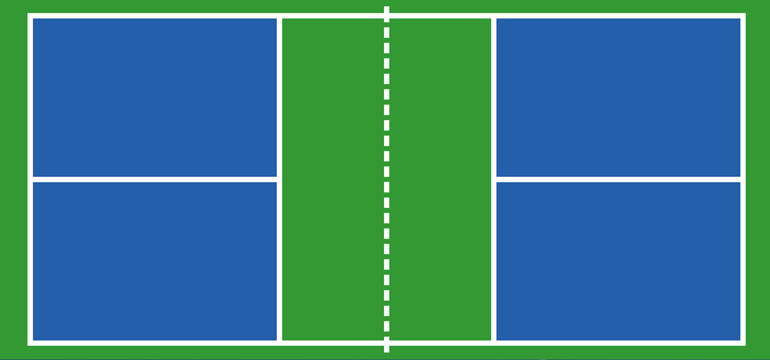 Want to add pickleball times to your community sports arena? At Total Sport Solutions, Inc., we can help facility owners and managers find the best multi-game court flooring for all your sports needs, including pickleball. We work with several flooring suppliers which gives you many options to fit your goals and your budget.
5 Reasons Why You Should Join the Pickleball Revolution
Whether you are a diehard-sports enthusiast or not, this may be the excitement you need. Pickleball pulls the best from different court-played sports, creating a fun, recreational pastime. Not quite sure yet? Check out these compelling reasons to try this trending sport:
Super easy to learn: There is no need for hours of training and an expert coach. You can quickly pick up the rules and be on your way to winning in a short time.
Fun for the whole family…even your grandparents: Truth be told, pickleball has become a favorite recreational sport for retirees. With a smaller court than tennis, your grandpa can quickly rally the ball back over the net and not feel out of breath. This sport has become quite the community phenomenon and courts are popping up everywhere.
The court is portable: These courts can be drawn upon an existing outdoor tennis court with chalk, tape or paint. There are also numerous dedicated facilities. Many communities are opting for multi-game courts that allow for different games to be played all in the same place.
Costs are low: There is no need to buy fancy sports gear, though you can, if you just want to be stylish! Slip on some comfortable shorts or sweats, and a T-shirt. Then grab your sneakers and good eye protection if you wish. The paddles themselves are not expensive. Court fees are low or non-existent in some facilities.
Health benefits for all: In today's technological age, we tend to spend more sedentary time in front of our computer screens. If you go out to play basketball or tennis, you have a large court to run up and down, which may leave you winded and out of breath. When you play pickleball, the court is smaller, meaning you do not have to run as much. Don't let that fool you though. You still have to work to keep that ball bouncing across the net!
Choose Multi-Game Court Flooring Products from Total Sport Solutions, Inc.
Satisfy your pickleball, tennis, basketball, or inline hockey needs with the right multi-court flooring from Total Sport Solutions, Inc. We understand the pull that these recreational sports have for your local community. Everyone will benefit from the additional social interaction and exercise for years to come, with hours together playing pickleball.
Total Sports Solutions is your one-stop-shop for a successful multi-purpose flooring project in Canada. Call us today at 1-866-718-9178 and receive a free quote.