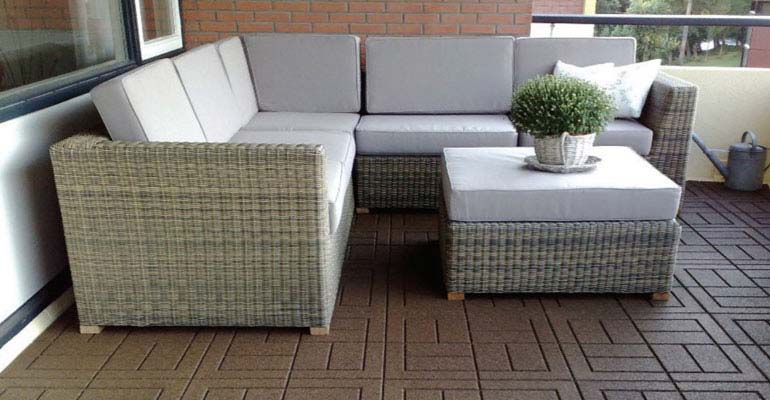 Spring is a time of growth and renewal as trees and flowers sprout, birds sing, and landscape beds are cleaned out. Schools, gyms, rehabilitation centres, and homeowners alike are ready to shake off the cold and dampness of winter with new projects. When renovating, many decisions are made about the design and types of materials to be used. In Canada's extreme winters, some exterior surfacing does better than others. Whether you are building a new high-performance green landscape area or rejuvenating an old patio, you need a proven product.
At Total Sport Solutions, we help you find the best solution for your specific needs. We work with a variety of leading flooring suppliers to provide you with options for your facility or home. We believe consumers benefit from buying quality, not hype, and Dinoflex Exterior Surfacing is one example of excellence.
Dinoflex Exterior Surfacing Brings Green Landscaping to a Whole New Level
Find the right product for your outdoor project with our help. At Total Sport Solutions, we recommend Dinoflex Exterior Surfacing because of its durability and resiliency. Here are a few more reasons you will love this product as much as we do:
Wide Variety of Applications: Dinoflex's exterior recycled rubber products can be used for both commercial and residential projects, such as:

Green Roofs
Entryways
Rooftops
Porches
Landscapes
Stair Treads
Walkways
Patios
Gardens
Decks

Handles High Traffic Areas: When you have much traffic coming in and out, you need a material that can handle it. Dinoflex can!
Noise Reducing: Planning a flower garden at your worship center's campus? Enjoy a more pleasant outdoor atmosphere when footstep noises are absorbed.
Superior Drainage: You will not have to fear water build-up after a spring shower. This product allows the water to whisk itself away.
Offers High Traction for Safer Walking: No slick surfaces to fear with the quality manufacturing of these tiles and pavers.
Beautiful Array of Colours: Match or contrast your school's colours or your home's exterior with a variety of choices.
Value for Your Budget: Get more mileage for your budget by using a product that delivers exceptional value. When correctly installed and maintained, it may last for more than 20 years. Total Sport Solutions proudly offers Dinoflex manufactured recycled rubber flooring which is low-maintenance and built to last.
Choose Your Recycled Rubber Floor from Total Sport Solutions, Inc.
When choosing the best product for your school, gym, church or mosque, do consider quality rubber flooring with help from Total Sport Solutions, Inc. We have the expertise to help you make the best decision on exterior surfacing, sports mats, fitness tiles, or high impact flooring. Enjoy many years from a long-lasting, customized rubber floor made with Canadian technology.
Total Sports Solutions is your source for recycled rubber flooring in Canada. Call us today at 1-866-718-9178 and receive a free quote for your flooring installation project.