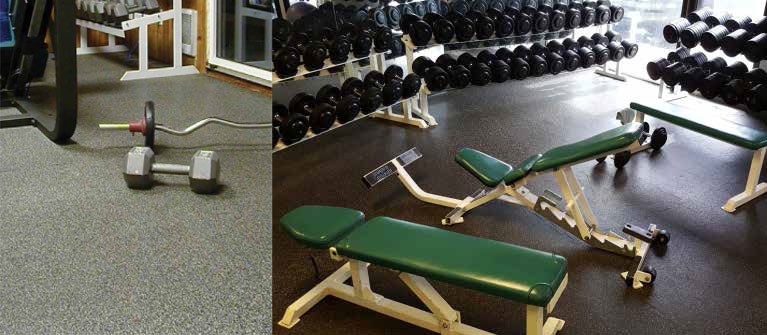 Incorporating exercise into your lifestyle is vital to maintaining your health. Sports, such as weightlifting, running, or triathlons, require quite a bit of time at the gym. Even choosing light exercises can mean purchasing a membership. Few of us have the time to get up at the crack of dawn, drive across town just to do some reps on the leg press. Instead, it is much more convenient to get up and walk down the hall to your own home gym setup with the appropriate equipment and high impact flooring.
At Total Sport Solutions, we help you find the best solution for your home gym desires. We work with leading flooring suppliers to give you a variety of options for your home or facility. We believe you greatly benefit from buying quality, not cheap imitations, and Dinoflex High Impact flooring is a fantastic choice for your needs.
Dinoflex High Impact Flooring Makes Your Workout Inviting
When you are looking for home gym flooring in designer colours, Dinoflex has what you're looking for. Catch a few more z's before bounding out of bed for your next workout when you choose this high impact flooring. Here are a few benefits you can enjoy:
Durability: When you decide to invest in your health by building a private exercise area, you want it to last. This flooring offers durability so you can enjoy several years of activity.
Sound Reducing: Even if you get up at 4 AM, many of your family are probably still snoozing. Head into your room, close the door and know everyone else is counting sheep.
High Resiliency: Doing cardio, Pilates, or arm curls day in and day out can wear on any surface. This flooring can bounce back as quickly as you can land a jumping jack.
Stain Resistant: You might drink water in your gym, but your kids might bring in a sports drink. If something gets spilled, you can easily clean it up and not worry about staining.
Environmentally and Budget Friendly: Incorporating more than 50% recycled content, this surface is cost-effective and beautiful. You will enjoy your workouts even more in an environment that does not break your budget. Dinoflex FloorScore* certification ensures the compliance with the indoor quality emissions requirements. Additionally Dinoflex has te Canada Green Building Council approval.
Gorgeous Colours: Standard thicknesses range between 10-12 mm and can be found in Standard, Stone Line, and Elite.

Fashion Your Home Gym with High Impact Flooring from Total Sport Solutions, Inc.
Choose flooring that offers you the best features at a great price so that you can spend more on choice equipment. Talk with our experts at Total Sport Solutions, Inc. about putting Canadian Made Dinoflex's Next Step High Impact rubber flooring in your home or facility. Need other sports options? We offer the best in sports mats, fitness tiles, or outdoor courts. Enjoy many years from a long-lasting, customized rubber floor in your home gym.
Total Sports Solutions is your source for recycled rubber flooring in Canada. Call us today at 1-866-718-9178 and receive a free quote for your flooring installation project.
* FloorScore is a certification program developed by the Resilient Floor Covering Institute (RFCI) in conjunction with Scientific Certification Systems (SCS). The purpose of this certification is to ensure that flooring products comply with indoor air quality emission standards.