Add Vibrancy with Dinoflex Sport Mat Flooring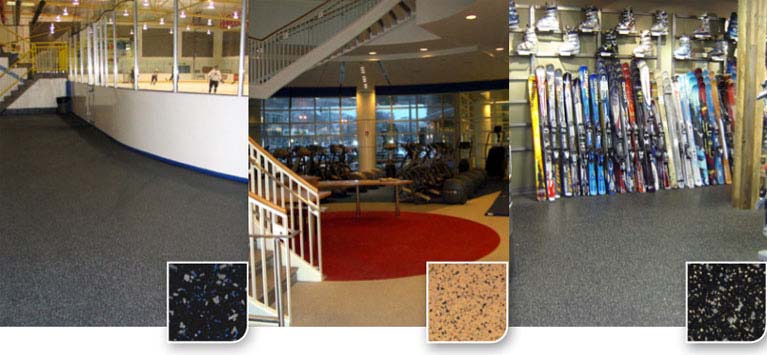 "Everything goes with black". At least, this adage is touted in the fashion world. Of course, your little black dress or your favourite tuxedo may look great at a dinner party, but most of us still accessorize with some colour. The same holds true with your rubber flooring. Working out or trudging through the tunnel to the ice rink on plain black flooring can be boring. Why not spruce up your home gym, commercial gym, workout room, ice rink, or ski resort with a durable product that is beautiful and unique?
At Total Sport Solutions, we can help you wade through the choices available in a variety of applications. One such product that we believe is an excellent option for our customers is Dinoflex Sport Mat. Professional sports teams and fitness clubs all reap the benefits of this outstanding product manufactured right here in Canada.  Talk to us today to see how your home or facility can benefit from new sport mats.
High Intensity Sports Demand a High Impact Floor
Sport facility floors take a beating from weights, skates, snow boots, and cleats. Here are a few more features you can expect when you choose Dinoflex's Sport Mat:
Weather Resistant: If you have many winter sports enthusiasts trekking through your building, you want a surface that can withstand snow and ice. Look no further!
High Traction: You don't want anyone to slip and fall, especially when floors get wet. Dinoflex understands this and provides high traction in their recycled rubber – even when it's wet.
Durable: Investing in your flooring is an investment in your teams, players, students, or clients. It would help if you had a sport mat that can hold up to high traffic and last for years.
Absorbs Sounds: The chatter of teammates can quickly escalate to deafening heights when there is nothing to absorb sounds. These rubber tiles can keep the noise down when everyone is celebrating.
Impact Absorbing: High traffic means the material needs to hold up to the constant pounding of footsteps. These sport mats can handle what comes its way.
Varied Colour Palette: Black is out. Colour is in. At least it can be in your facility or home gym. Do you prefer the look of stone with its earthiness? Then the Stone Line may be perfect. Maybe you want to make a splash with bright, vibrant tones from the Elite Line. The choices are nearly endless.
Choose Your Facility's Sport Mats from Total Sport Solutions, Inc.
Enjoy a new level of durability and sustainability when you choose Dinoflex's Sport Mat Flooring. The experts at Total Sport Solutions, Inc. can help you make the best decision not only for sport mats, but also for your choice of rubber floors, fitness tiles, or high impact flooring. Let us help you make the most of your investment in your gym, ice rink, school, or fitness center.
Total Sports Solutions is your source for sport mat flooring in Canada. Call us today at 1-866-718-9178 and receive a free quote for your flooring installation project.