Boys and Girls clubs, community centres, small recreation centres, churches, mosques and other places of worship all want to encourage youth and the community to use their facility and be active. To come together, play together and be involved. However, often the poor condition of the facility may be what is keeping people away. While this may be partly due to funding, it may also be due to a lack of knowledge of what the options are.
Yes, refurbishing a gymnasium does cost money but not always as much as you may think. Often rims and or basketball backboards can be replaced using the existing support structures. Volleyball and badminton posts can be painted and a new net installed and wall padding can sometimes be repaired and not replaced.
Flooring will likely be the largest expense but it can also be the most important. The floor is what will give the facility the wow factor and is the single most used 'piece of equipment' there is. Every sport needs the floor and every sport should be played on a "sports floor".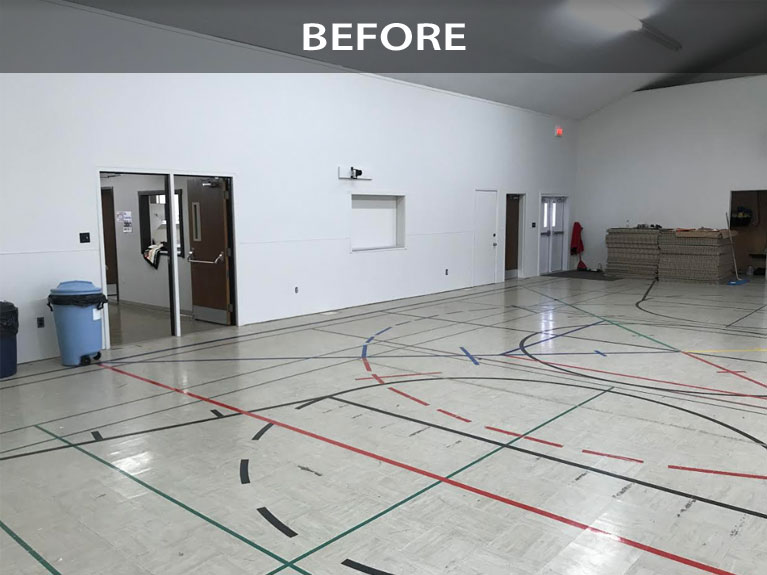 In the past, and in some cases still today, we see Vinyl Composite Tiles (VCT) being installed as a gym floor. VCT makes for a fine classroom floor but it is far from a sports floor! Essentially, you are playing on concrete with a thin layer of vinyl on top. This offers no shock absorption when playing, running and jumping. Playing on a surface like this is not only uncomfortable, it can be harmful to young children and their growing bones as well as to adults with bad knees and backs. In fact, often the pain we feel in our knees and backs as adults are not because of what we have done recently, but rather is the cumulative effect of playing on hard surfaces as children. We were invincible (or so we thought) when we were kids and could run, jump and play on any surface. Well, it catches up to us as adults!
A proper sports floor will not only attract people to come to use the facility but it will also protect the young, growing bodies of your children and make it more comfortable for adults to play longer. In some cases, the facility may be able to increase its revenue once the changes are made simply by more people wanting to use the gym. Nobody wants to or should play on concrete.
Since flooring is the single most important piece of equipment in the gym, what are the options?
There is no single best option for everyone or every facility. It will depend on many factors such as; How the gym will be used? Just for sports or for many activities? Who will be using it? Recreational play or will there be a basketball or volleyball league? How often will the gym be in use? What is the budget? How long do you want the floor to last? Have there been any issues with the existing floor? And some of these questions can lead to other questions.
A good sports flooring company will not simply offer one solution but rather they will consult with the facility, asking many questions to help determine which solutions will be best and discuss these choices. Our experience is many of these small to medium-sized facilities are not run by professional sports facility managers, they are run by volunteers or part-time managers. Information and education should always be the first step.
When people think of a gymnasium floor, they think hardwood. And hardwood can be an excellent gym floor but there are many other options. In some cases, a new floor can be installed directly over top of a VCT floor (saving money) and for other flooring options, it may be necessary to remove the existing floor. There is also a wide range of price points for sports flooring and some floors which are best for certain sports but not as good for all sports.
If your facility is thinking of upgrading your floor or equipment and don't know where to start, speak with a professional who will take the time to go over the options with you and present you with more than one solution. If it is not in the budget to complete the work right away, you will now have a target for fundraising and the information to back up your need for a new floor and/or equipment.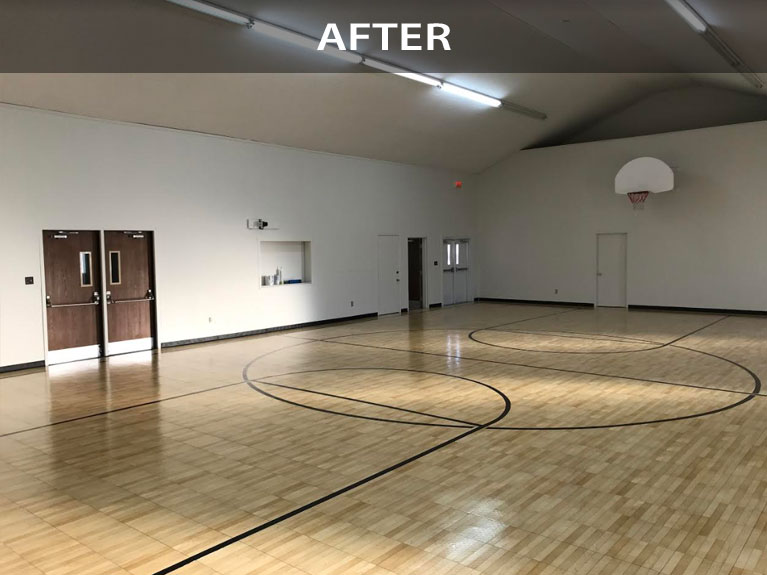 Note: The pictures shown are from the gym flooring renovation at the Little South-West Baptist Church in New Brunswick. Total Sport Solutions installed our SnapSports Maple Revolution TuffShield flooring directly overtop of the vinyl tile floor. This transformation took just 3 days.