Junckers has signed a long-term agreement with FIBA*, basketball's global governing body, to serve as Global Supplier of wood flooring until 2024.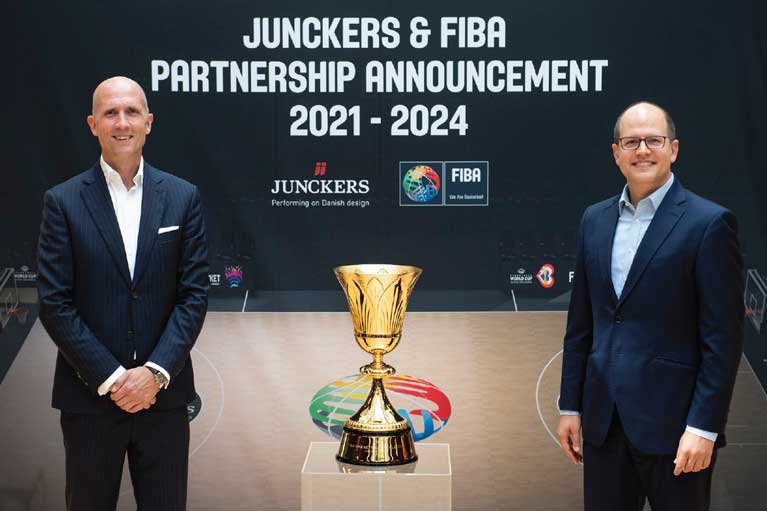 JUNCKERS & FIBA PARTNERSHIP ANNOUNCEMENT
Total Sport Solutions Inc., the Canadian Distributor for Junckers Industrier A/S Sports Flooring is excited to announce that Junckers has signed a long-term agreement with FIBA, basketball's global governing body, to serve as Global Supplier of wood flooring until 2024. The announcement by FIBA was made on 09 September 2021, detailing the multi- event partnership which will encompass FIBA's elite international competitions in the next three years, including FIBA EuroBasket 2022, FIBA Basketball World Cup 2023 and 2024 Paris Olympic Games basketball tournaments.
For more than 85-years, Junckers™ has produced state-of-the-art solid hardwood sports flooring. Junckers™ hardwood floors are sold and installed worldwide consistently chosen for universities, FIBA Championships and Olympic games. In Ontario, the Playground Group has put tehir trust in the Junckers hardwood sports flooring at their basketball facilities in Scarborough, Peterborough, Brampton, Burlington and soon to be in London, Ont.
Junckers Hardwood Sports flooring are great for;
School Gyms
Basketball Courts
Volleyball Courts
Aerobic Rooms
Multipurpose Rooms
Yoga Studios
Dance Studios
Community Centres
Church Gymnasiums
Advantages of Junckers™ Sports Flooring
Reduced installation time. Our prefinished floor eliminates the need to acclimate, sand, seal and finish on site, reducing installation time by 50% to 60% compared with traditionally installed hardwood sports floors.
Thicker floor. Our finished floors are 7/8" thick which is 18% thicker than sanded in place hardwood floor allowing our floor to withstand more maintenance sanding and providing a longer useful life and ultimately greater value for you.
Longer Lifespan. All things being equal, 18% thicker results in 18% longer lifespan and the best value for you
More Durable. Our exclusive press-dried process increases the strength and hardness of our wood over our competitor's floors. The more durable a wood floor, the longer it will last.
Lower Maintenance Cost. Our proprietary press-dried wood and lacquer finish means that, all things being equal, our floors will last longer between sanding. The less frequently a floor is sanded, the lower the cost to maintain it and the longer it will last. A well-maintained Junckers™ floor can last 25%+ longer than our competitor's hardwood floors!
Factory Finish = Higher Quality. Our prefinished floor eliminates the risk of human error when sanding and lacquering on site ensuring your finished floor is of the highest quality possible.
Reach out to us and the professionals at Total Sport Solutions will sit down with you and explain which system would work best in your facilities and within your budget. Call us today at 1-866-718-9178 and take the first steps in your sports flooring project in Canada.