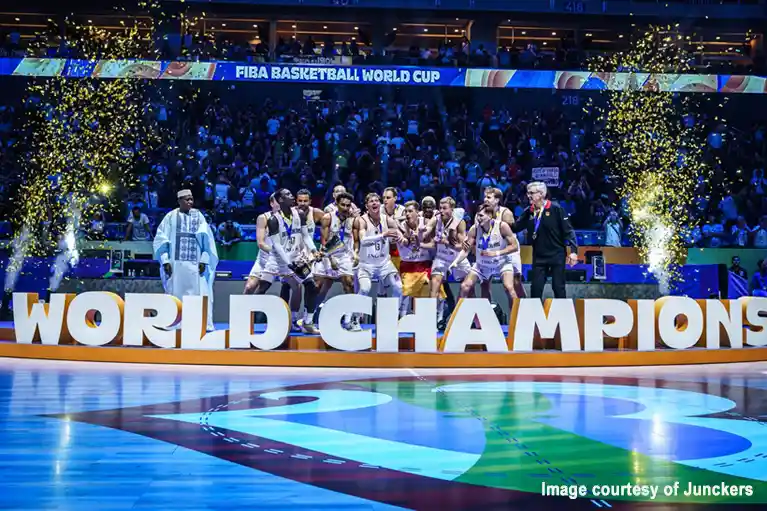 Junckers, a world-renowned provider of top-quality sports flooring solutions, continues to shine on the global stage as it delivers its premier Pro Complete 44 sports floor system to some of the most prestigious basketball tournaments worldwide. With an unwavering commitment to excellence, Junckers recently left an indelible mark at the FIBA Basketball World Cup 2023. Hosted across five dynamic venues in Manila, Philippines; Okinawa, Japan; and Jakarta, Indonesia, this tournament showcased exceptional basketball floors customized with sponsor branding, all meticulously crafted by Junckers.
FIBA World Cup 2023 Highlights
The courts, equipped with the Junckers Pro Complete 44 system, set new standards with remarkable shock absorption, ensuring player safety and peak performance.
Precision engineering delivered optimal friction control and ball bounce, enhancing the overall playing experience.
"The courts not only looked fantastic, but the players were able to be at their maximum because of the quality of the surface", explains Frank Leenders, FIBA Media and Marketing Services Director General, following Germany's first FIBA Basketball World Cup and the tournament drew to a close.
A Legacy of Quality
Lars Gjodsbol, CEO of Junckers, takes pride in the company's global role as a supplier of premium wooden floors. The resounding success of the FIBA Basketball World Cup 2023 serves as a testament to the exceptional quality of Junckers' sports flooring. The partnership with FIBA continues to flourish, with Junckers eagerly anticipating its participation in the upcoming Olympic Basketball Tournaments in 2024.
The Next Challenge: Olympic Basketball Tournaments 2024
Mark your calendars as Junckers prepares to supply its high-quality Pro Complete 44 sports floor system for the Olympic Basketball Tournaments scheduled to take place from Friday, July 26, 2024, to Sunday, August 11, 2024. As the world's best athletes gather for this prestigious event, Junckers remains dedicated to delivering top-tier sports flooring solutions that elevate the game and set new standards of excellence.
Previous Tournaments
FIBA EuroBasket 2022
FIBA Championships 2019
FIBA U19 Basketball World Cup 2017
FIBA EuroBasket 2017
Junckers' legacy of excellence continues to shape the future of international basketball, creating a lasting impact on the world's most prominent tournaments.
Total Sport Solutions
Total Sport Solutions is the official partner of Junckers for Canada. At Total Sport Solutions, we know basketball courts. In fact, on our Team is the coach of the National Champion, U17 Ontario boys basketball team. Our experience in the industry spans small training areas to huge multi-court facilities. From 600 square feet to more than 15,000 square feet, we've floored it all. Request a Consultation with one of our specialists.