Even if you are not an athletically gifted person, many of us have gathered outside on a basketball court to shoot a few hoops, play a little one-on-one, or for a quick game of Horse. The fun and camaraderie created are some of the best memories a child can have. They may not remember the video game they played at seven-years-old, but they can remember making their first three-point shot!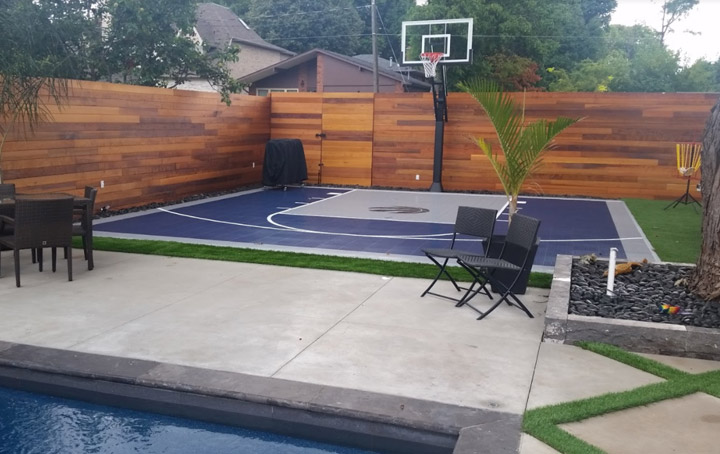 One family, the Keane family, will get to enjoy hours of fun after winning a backyard basketball court at their Massachusetts home. The family enjoys playing the game and they even tape weekday games to be watched after school. For them, the new rubberized "sports court" will bring years of fun for the kids, mom and dad, and the neighborhood.
Having a neighborhood outdoor court, whether in your backyard or in your local park, is a great way to build community and get some exercise.
4 Advantages of a Backyard Outdoor Court
When you build a backyard basketball, volleyball, or multi-game court, you reap the rewards of increased physical activity and socialization.
Here are just a few ways an outdoor court can bring your family and community together:
Turn Your Home into a Safe Space for Community Kids: The world can be a scary place, especially for kids. When you build a backyard basketball court, your home becomes a place to hang out and provides a safe and friendly environment for the neighbourhood kids.
Increase Your Kids' Physical Activity Levels: Want to get your kids outside more? Build an outdoor court and invite the kids in the neighborhood to come and play. It is a great way for children to be more physically active as well as learn good sportsmanship.
Spend More Family Time: You know what they say, "The family that plays together, has more fun!" Playing sports gives you and your family the opportunity to engage with each other, laugh together, and just enjoy one another's company. That does not happen as easily if you are sitting around a television.
Become More Social: The hustle and bustle of today's society can often leave us feeling lonely. Instead of coming home from a draining day to scroll through social media, why not get social within your own neighbourhood? A backyard outdoor court can open up opportunities to meet your neighbours, get to know them better, and create a strong sense of community and belonging.
Get Everything You Need for Your Outdoor Court from Total Sport Solutions, Inc.
Ready to build the ultimate backyard court? The team at Total Sport Solutions, Inc. has everything you need.
Whether you want to build a backyard basketball court, volleyball court, or a multi-game court, we have all the supplies and expertise to build your perfect backyard haven for your young athletes.
We sell and install the outdoor court that fits your needs and your budget using the industry's top-rated SAFE Play and Performance materials. You can trust that we will build a court that will last.
Total Sport Solutions is your single source for any basketball court project in Canada. Call us today at 1-866-718-9178 and request a free quote on your project.