Whether it is for your driveway or your backyard basketball half court or multi-game court, the quality of your basketball goal can make a big difference to your play. We have all seen or even played on the portable driveway hoop with blocks of cement holding it in place. When you make a shot the backboard rattles and moves and don't even think about doing a slam dunk. If the rim doesn't bend, the whole thing will come crashing down on you!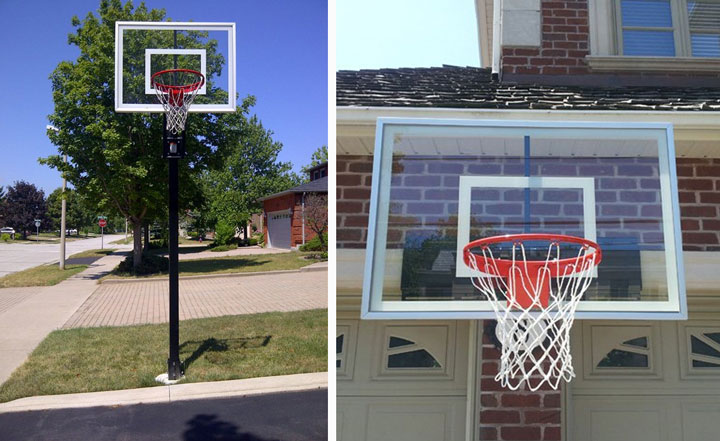 A quality basketball goal will cost more than a flimsy portable system but you will have more fun with it and you will want to play more often. Just like any piece of sports equipment, the better the quality the better the play. Up your game with one of our premium series basketball goals for your driveway or backyard court.
Imagine the thumping of the ball on the asphalt keeping time as your young player moves towards the goal. Suddenly he stops, lines up for the shot and the ball leaves his fingertips, arcing towards the goal. Swish… nothing but net as he scores again. The imaginary crowd cheers and the player raises his hands in the air. Next up, he goes for the slam dunk. A quick move to the right and then back to the left, two steps and his feet leave the air. With both hands on the ball he slams the ball through the net and hangs on to the rim for a celebratory swing from the rim! He scores again! With our HyperDunk, this is reality. The rim can be lowered low enough for the young player to do a slam dunk and it is sturdy enough not to fall over when they (or an adult) hangs on.
Keep the NBA dream alive when you invest in one of our Total Sport Solutions basketball hoops.
Basketball Goals Options for Your Driveway Superstar
Nothing says "superstar on the basketball court" like a well-made basketball goal that can withstand all the layups and slam dunks thrown at it.
HyperDunk Series: Is an in-ground basketball goal designed for any age of player and every playing ability. We have even installed one of our HyperDunk basketball goals in the driveway of a current player on the Toronto Raptors! The ½" thick tempered glass is the same thickness used by the NBA. The HyperDunk goal rim can be lowered down to 5 feet so even the youngest of future stars can make the shot. It is a slam dunk dream maker with its one piece 7-gauge steel square pole that can handle aggressive play. The lifetime warranty even covers slam dunks and hanging on the rim! The HyperDunks come with a breakaway rim. To help keep players safe, all our HyperDunk basketball goals alsobcome with post and backboard padding.
Challenger Series: Designed for purely recreational play, our Challenger Series in-ground driveway hoop is a scaled down version of our HyperDunk goal. Everything about it is a "little less", including the price. It comes with a 3/8" thick tempered glass backboard instead of ½". It is height adjustable down to 7'-6" instead of 5' and the backboard overhang from the post to the backboard is 30" not 36" or 48" that the HyperDunks come with. Still an excellent option for less serious and less aggressive players.
Roof and Wall Master Series: Is for the serious basketball player who doesn't have the room for a pole beside the driveway. These goals mount to almost any wall or roof pitch. Depending on the location, they can be height adjusted from 10' down to 6' and the backboard will extend 38" form the wall. Backboard padding is optional but they do come with a gymnasium quality flex rim and are available with either an acrylic or tempered glass backboard.
Uni-Champ Wall Mount Series: Looking for a wall mount basketball goal that won't break the budget? The Uni-Champ Wall Mount Series is an affordable, robust wall-mount option that comes in an acrylic or tempered glass backboard and a heavy duty flex rim that is height adjustable from 10' down to 7'-6". This is a scaled down version of the Roof and Wall Master Series. An excellent option for less serious players that need a quality basketball goal for some weekend or after school fun.
Other Options: We do have other options for your driveway or backyard basketball goals. If you have a specific need or a unique situation, please contact us, we will be happy to work with you to find the right solution for you.
Fulfill Your NBA Dreams with the Right Basketball Goal from Total Sport Solutions, Inc.
Ready to support your young player's dreams with a HyperDunk goal? Maybe enjoy throwing a few free-throws on a Sunday afternoon with a Challenger Series hoop and rim? The team at Total Sport Solutions, Inc. has everything you need to build the best basketball court for your needs right in your own driveway or in your backyard
Total Sports Solutions is your single source for any basketball court project in Canada. Call us today at 1-866-718-9178 and receive a free quote.