Total Sport Solutions offers a wide range of flooring options; from the most advanced modular flooring available to the industry's lowest profile sprung hardwood floor as well as cushioned rolled vinyl floors and pad and pour seamless sports flooring.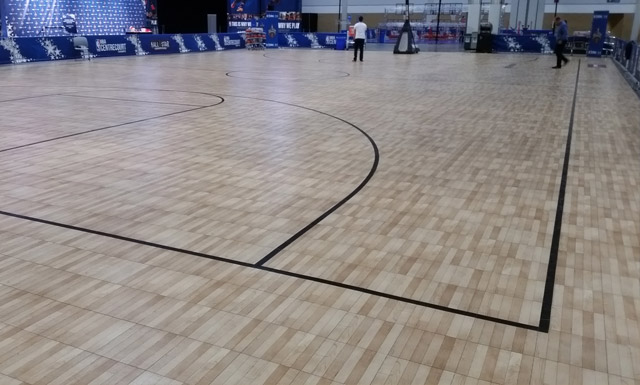 Churches & other places of worship. Community centres & sports facilities. Small schools, futsal clubs, basketball training facilities, sport and social clubs have all realized that SnapSports modular sports floors provide all the properties of play that you're looking for, without the high price.
SnapSports® is the world's leading manufacturer and supplier of premium modular sports flooring. But don't let the idea of a modular polypropylene sport tile worry you. Our surfaces are used by and endorsed by top organizations including; FIBA, NBA Events, United States Futsal Federation, USA Volleyball national qualifier tournaments, USA Handball, Canlan Sports, Toronto Sport & Social Club, The Blyth Academy and many more. This is a cost effective, quality engineered sports surface
Why is our SnapSports® Modular Sports Floor Right For Your Facility?
SnapSports® multi-patented sports floors are top rated in the industry for performance and safe play.
SnapSports® floors are unaffected by moisture and can often be installed directly on top of your existing floor.
Ideal resilience, traction, durability and ball bounce
Ongoing maintenance is easy and inexpensive with no special cleaners required
Easy and inexpensive to repair if needed
Completely modular so you have not lost your investment in flooring should you move or expand
Available in a wood grain finish as well as up to 18 solid colours. Custom colours available
15 year manufacturer's warranty
20-25 year life expectancy.
Other Flooring Options:
We also Offer:
We will be happy to quote your specific project.