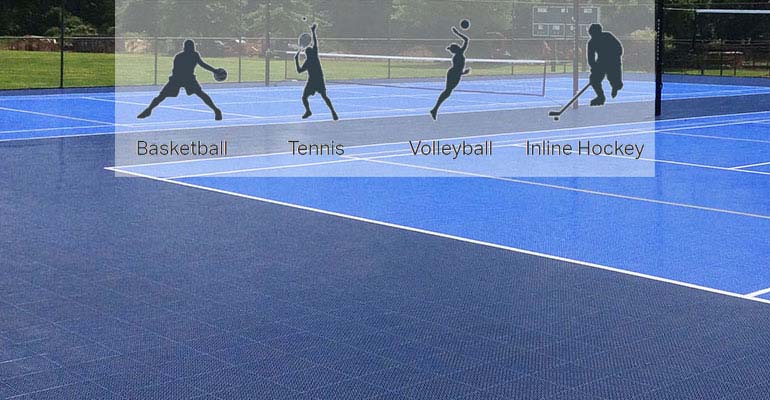 Sports provide many benefits for young athletes. They help develop strong bones and muscles, keep participants physically fit, and build character, integrity, and sportsmanship. Many favourite sports are seasonal and played indoors such as basketball and volleyball. It begs to question, how do you support your kids in the off-season? The problem compounds when you have several athletes of different sports living under one roof. Luckily, the answer is right in your backyard.
Ensure your family of athletes can stay in top shape even in the off-season. Renovate your backyard with a multi-game outdoor court installed by the experts in indoor/outdoor sports flooring at Total Sport Solutions. We believe quality gives our clients more for their money. That is why we only represent and sell top quality products from industry leading manufacturers.
3 Benefits of Converting Your Backyard into a Family Rec Center
While some families put in a swimming pool with its continual costly maintenance, your household can rack up tons of hours playing inline hockey, volleyball, basketball, and tennis. Here are three benefits of converting your backyard into a fun oasis:
Save Time and Money: When you live a busy life, saving time is vital to keep on top of things. With a multi-game outdoor court, there is no need to waste time and fuel, driving to the gym or community center.
Keep Family Safe: You know where your children are and whom they are playing with, just by looking out your back window.
Support a Healthy Lifestyle: Encouraging your family to stay physically active now builds a habit for a lifetime.
5 Reasons to Choose Outdoor Revolution from SnapSports
Once you decide to incorporate a backyard game court, choosing the best flooring system is your next step. At Total Sport Solutions, Inc., we carry many quality products from reputable manufacturers. SnapSports offers many reasons for you to consider, including:
Patented ShockLock – an interconnected system that provides lateral stability.
Unique Court Tensioning System (CTS) – keeps the surface steady and secure for safe play.
Aesthetically pleasing – interlocking systems maintain a seamless look while it covers cracks, stains, and puddles.
Fast drainage – an open top allows wet weather conditions an avenue to move off the court.
Fungus and germ resistant – resists many health debilitating germs such as Staphylococcus, Klebsiella Pnuemoniae, STV Reticulum. It is also fungus, bacteria, and mildew resistant.
Build Memories with Outdoor Revolution and Total Sport Solutions, Inc.
Enjoy your family and make fun memories when you install a multi-game court made from Outdoor Revolution. This product is used in backyards, tennis facilities, community centers, and sports gyms across the country. Total Sport Solutions, Inc. has the skill and expertise to help you make the right decision and to capture years of enjoyment.
Total Sports Solutions is your source for Outdoor Revolution flooring in Canada. Call us today at 1-866-718-9178 and receive a free quote for your flooring installation project.
Learn more about Snapsports' Outdoor Surface Options