When space is at a premium, it pays to have a trick or two up your sleeve. Gymnasiums that double as dance floors, wrestling rooms, and basketball courts benefit from wall-mounted basketball goals. These pieces of equipment suit a wide variety of indoor and outdoor courts.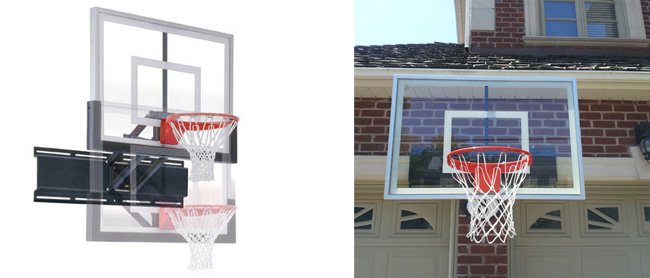 Expect a rugged goal that allows for years of use, including the occasional slam dunk. The enthusiasts at Total Sport Solutions can assist you in finding the perfect target for your facility's needs. Looking for something for the practice gym? We have the solution for you.
Types of Wall Mounted Basketball Goals
If you need a new or replacement basketball goal, a wall mounted unit may fit the bill. Here are the different types you can choose from:
Stationary/Fixed: If you do not need to put it out of the way, then a fixed backstop may work. Typically, these are used for practice backstops or side court gym units.
Side Fold: When not in use, a side fold goal will fold tightly against the wall. You can often get extensions of 4 to 12 feet to set it from the wall.
Backboard Extension - Along with the type of wall mount, we can also help you select the appropriate overhang from the wall to the backboard. We have systems that can extend up to 12' from the wall.
Once you have chosen your wall mounted basketball goal, you can select from a variety of backstops, including:
Steel
Aluminum
Fiberglass
Acrylic
Tempered Glass
Each type can withstand the forces of athletes in play. The professionals at Total Sport Solutions, Inc. work with you to find the perfect fit for your facility and needs. Put this indoors or attach it to your garage; the choice is yours.
Total Sport Solutions, Inc. Offers the Best in Wall Mounted Basketball Goals
Make full use of your sports space when you utilize a wall mounted basketball goal. The professionals at Total Sport Solutions, Inc. can help you make the best decision. We also carry sports mats, rubber floors, fitness tiles, and high impact flooring. Let us assist you in making the most of your investment in your facility's gym, ice rink, school, or fitness center. We are here to support players in their sport of choice.
Total Sports Solutions is your source for wall mounted basketball goals in Canada. Call us today at 1-866-718-9178 and request a free quote for your basketball goal installation project.