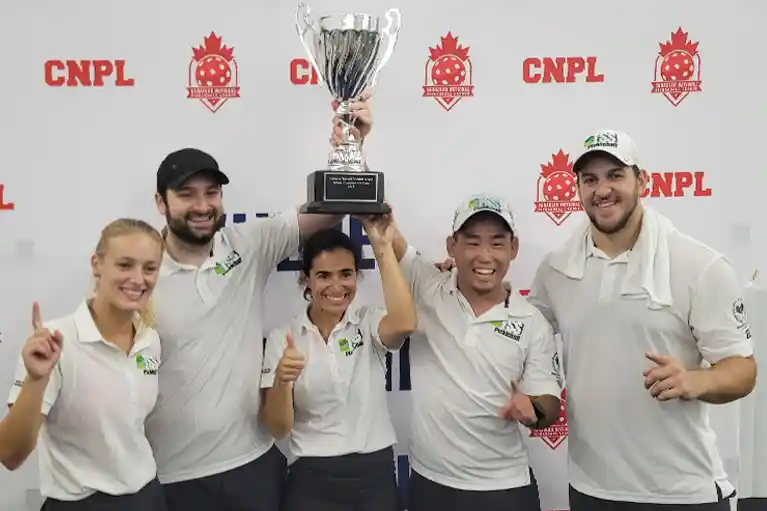 We're elated to extend our heartiest congratulations to the Toronto United Pickleball Club for clinching the title of the 1st ever Canadian National Pickleball League champions!
As TSS stands as their premier sponsor, this win resonates with us profoundly – because when they win, we all win! Beginning the season with a 2-5 record might have been challenging, but what a turn it has been with an outstanding 10 wins and just 1 loss leading through the championship weekend. And to top it all, the only unbeaten team over the championship weekend sealed their well-deserved championship!
TSS Pickleball was there and had the privilege of witnessing this exhilarating journey over the weekend. Every serve, every point was a testament to the dedication and passion that drives this team. With two more years left in our 3-year sponsorship agreement, the future looks brighter than ever!
Pickleball may not yet have the spotlight like some major sports, but it's undeniable how swiftly it's making waves across North America. We foresee a day, not too distant when pickleball will hold a central place in the Canadian sports arena.
It fills us with immense pride at Total Sport Solutions to say that we recognized and supported professional pickleball in Canada ahead of the curve. In the league's inaugural season, only a handful of visionary companies came forward. Now, with the unprecedented success of this season, we're optimistic that many more will join the fray, bolstering support for this dynamic sport.
A huge shoutout to Ricky Liorti, partner/owner of TUPC. His infectious passion, combined with a deep commitment to the team, has been a linchpin in their journey. The Canadian National Pickleball League is teeming with talent, but what set TUPC apart was Ricky's knack for fostering team spirit and camaraderie.
And we cannot forget George Boutsalis, partner/owner of TUPC. George, your unwavering support and the electric energy you brought to the sidelines during every match have been nothing short of inspiring.
Here's to many more triumphant seasons and the exhilarating growth of professional pickleball in Canada!