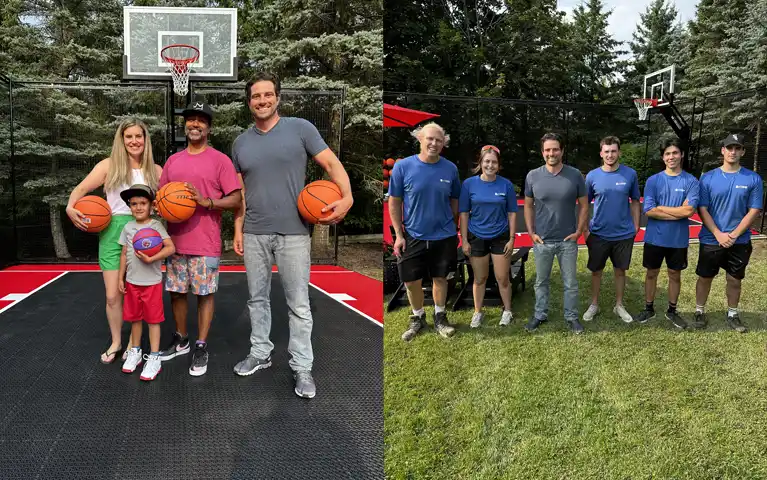 Total Sport Solutions was recently featured on the latest episode of 'Buying In with Scott McGillivray.' We showcased our skills by creating an amazing basketball court in the backyard of Mocha, a well-known radio host from the 'Roz and Mocha' morning show on 92.5 Kiss FM.
Mocha really loves basketball, and the collaboration of 'Buying In' and our team brought his dream of having a fantastic backyard basketball court to life. On the show, Total Sport Solutions worked with Scott McGillivray to transform Mocha's backyard into an incredible space for sports lovers. We were focused on making sure the court was not simply good, but even better than what Mocha expected. After this project, Mocha's backyard is a dream for any sports enthusiast.
Having a sports court in your backyard isn't just for playing games. It's also about creating a sense of togetherness in your community and encouraging a healthy and active lifestyle. It's a place where people can make and share special memories. Mocha's new court reflects his love for sports and provides a versatile area for different activities.
Scott McGillivray had this to say about Total Sport Solutions, "Working with Total Sport Solutions has been amazing. Everything went faster than expected and they were super professional."
If you're thinking about improving your outdoor space with a sports court, take a tip from Mocha's experience and choose Total Sport Solutions as your partner. Whether you want a basketball court, pickleball court, or any other outdoor sports area, our team has the skills, experience, and knowledge to turn your vision into a reality.
Watch the full episode of 'Buying In with Scott McGillivray' here: