No backyard rink is complete without the right accessories. After all, you want a place where your kids can go out and have a good time despite the snow and cold temperatures.
Whether you are looking for accessories to help make your ice rink stable all season long, or you want accessories that make playing on it more fun, you have more than enough to choose from.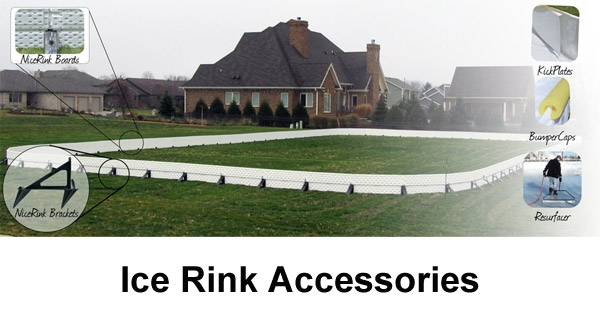 What are the Best Accessories for Backyard Rinks?
There is no better Canadian pastime than a backyard ice rink. The glistening ice, sun on your face, and the feeling that you are the king of the rink. To get the most out of that special wintertime experience, we highly recommend getting these accessories:
Brackets – Brackets make building an ice rink easier. They hold your side boards in place, which means no shifting as you flood and the water expands. Brackets also give you the option to adjust rink height.
Boards – Rink boards are not a necessity, but worth it. Not only do they help you shape and hold your rink together, but they make playing backyard hockey much easier. Who wants to leave the ice to chase a puck? With interlocking sideboards, you do not have to worry about plywood shifts.
Resurfacing Tool – To keep your ice rink in tip-top shape all season long, you need a resurfacer. These portable tools help maintain a high-quality ice rink shape and give you that super shiny and smooth surface you see on professional rinks.
Liners – Building your own ice rink? Then you definitely want a liner. Liners make the process of flooding and holding water over for freezing much easier than trying to build a rink directly on your grass.
Dasher Boards – If you have avid hockey fans or players in your household, you want dasher boards. These durable boards can be used year-after-year and are designed for hockey, including the rigorous speeds and body slams. Even better, you can pick a colour that suits your fancy.
Bumper Caps – Top off the side boards of your ice rink with bumper caps. These give you a soft cushion instead of plastic edges.
Kick Plates – If you know your ice rink will be used for aggressive hockey play, adding kick plates can protect the surfaces of your side boards and give you an added layer of durability.
Find Premier Accessories and Kits from the Ice Rink Experts
Total Sport Solutions, Inc. carries a full range of backyard ice rink accessories. We also offer a rink in a box kit, which allows you to quickly construct an ice rink in your backyard.
For a more customized solution, we offer three packages that build ice rinks in your backyard and include all the above-mentioned accessories as well as hockey pucks, including the light up puck for nighttime play.
Total Sport Solutions is your single source for any supplies and accessories required to build and maintain backyard ice rinks in Canada. Call us today at 1-866-718-9178 and request a free quote on your project.