If you take a drive through your community, you may pass a park or school with empty tennis and basketball courts. In times past, these places would be teeming with players challenging each other to a game of one-on-one or Horse. You could hear the "plop" of a tennis ball being returned across the net. Nowadays, sadly, you mostly hear crickets. You can change that by offering pickleball time for players of all ages in the area.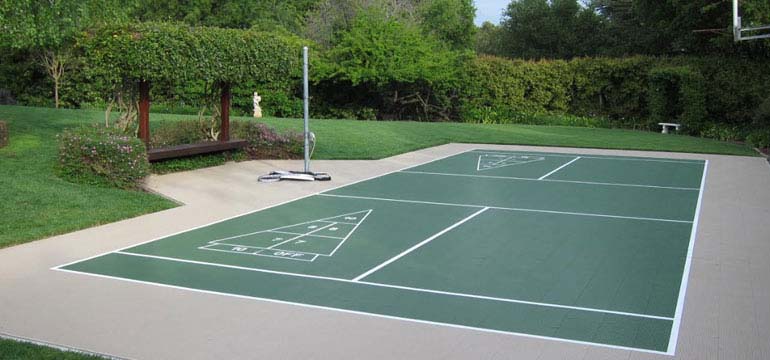 Revive your sports facilities when you modify your existing courts to include pickleball. This fun, favourite sport is over 50 years in the making, and it is taking the world by storm. Individuals from 5 to 90, are enjoying the social and health benefits of this game. At Total Sport Solutions, we help you take your courts to a whole new level with a variety of multi-court flooring options.
How to Convert Your Tennis Court to Add Pickleball
One of the beautiful things about pickleball is the ease with which you can add this game to your existing repertoire. Converting your existing courts is simple:
Shared-Use Courts: Pickleball requires less space than a tennis court. You can quickly draw the boundary lines with some chalk or mark them with tape or paint. Within a standard tennis court, you can easily set up two pickleball courts using portable nets. Need more courts? A little shifting and two courts can become four! Four times the fun gives you more mileage for your facility.
Permanent Courts: Let's say you live in a community where the pickleball bug has taken hold. There are more players than space available. Why not take that dilapidated old tennis court and quickly change the set-up to house four permanent pickleball courts and rejuvenate your park?
If placing paint, tape, or chalk will not work, an alternative is to put in a multi-game court. We work with suppliers that offer quality products to fit the needs of our customers. We recommend Outdoor Duracourt by Snapsports This all-weather surface gives your players consistency and performance, no matter what outdoor sport they want to play. It offers excellent all-weather traction year round.
Total Sport Solutions, Inc. Makes Your Multi-Game Court Flooring More Durable
Make the most of your existing courts when you add pickleball time. Whether painting new boundary lines on your current facility floor or installing new flooring, Total Sport Solutions, Inc. can help. We have the expertise to assist you in making the best decision and gain years of enjoyment. Enjoy the benefits of a long-lasting, multi-game court whether in your own backyard or at your community park.
Total Sport Solutions is your single source for game court flooring in Canada. Call us today at 1-866-718-9178 and receive a free quote for your flooring installation project.