Consider Seamless Pad and Pour Floors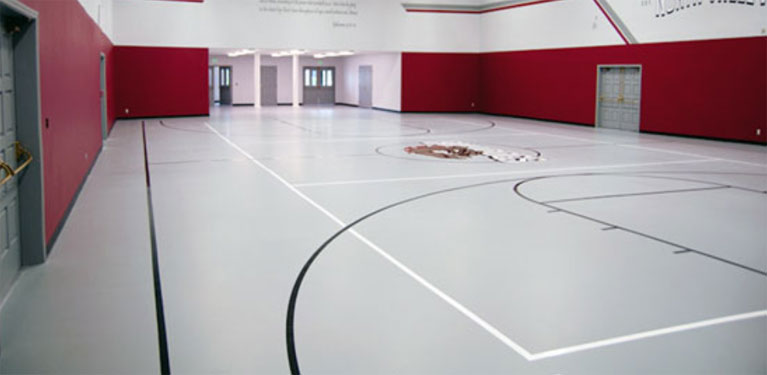 Are you looking for an indoor floor for your school gymnasium? Does your church hall or community recreation centre need new flooring The options are practically endless, such as rubber, hardwood, carpet, and poured polyurethane. Of course, you want a solution with high value, low maintenance, and one that is easy on the budget. That is where Pad and Pour Floors come in.
Find help from the flooring experts at Total Sport Solutions. We have access to a large number of providers that are well-respected, leading brands in the industry. We work with you to find a solution that fits your specific needs. We specialize in backyard rinks, multi-purpose flooring, wet area flooring, and options for aerobic, pilates, and yoga studios.
A Seamless and Attractive Indoor Flooring Option for Your Facility
What makes a pad and pour floor unique is its construction. First, a thick rubber underpad gets installed. Then, a series of layers made of liquid is poured on top. The result is a seamless and durable floor that will last for many years.
Benefits of Choosing a Polyurethane Gym Floor
Over twelve standard colours plus numerous customizable colours offer you plenty of choice. Use this indoor sport flooring for your school, church, multi-purpose room, indoor running tracks, and locker rooms. You will love the results, especially when you understand the benefits:
Renewable Wear Surface: Enjoy a surface that you can have restored easily. What better way to make a floor last, even up to the life of the room it's in.
Ultra-tough and Resilient: Many times, gym flooring is used by more than just athletes. This substance can withstand a basketball game and a dance. It handles tables, moving chairs, and bleachers with ease.
Meets LEED Certification: Yes, Pad and Pour Floors are environmentally friendly as they meet the requirements for LEED certification for recycled materials.
Durable Material – Fewer Harmful Chemicals: Strong materials do not always equal harmful chemicals. These floors are free of mercury, lead, and other heavy metals.
Customizable to Your Requirements: We can customize the pad and pour a seamless system to meet your application needs, including catering to specific age groups and activities.
Customizable Low-Maintenance Option by Indoor Flooring Experts
Imagine a newly poured floor that can last for decades. We work with high-quality manufacturers across Canada to bring you the best products for your needs. The experts at Total Sport Solutions, Inc. are available to help you find the right solutions for your facility. Not only do we work with poured floors, but we also install rubber flooring, sports mats, fitness tiles, and outdoor courts. Enjoy several years of quality, low-maintenance flooring in your gymnasium, school, church, or home.
Total Sports Solutions is your source for pad and pour rubber flooring in Canada. Call us today at 1-866-718-9178 and receive a free quote for your flooring installation project.