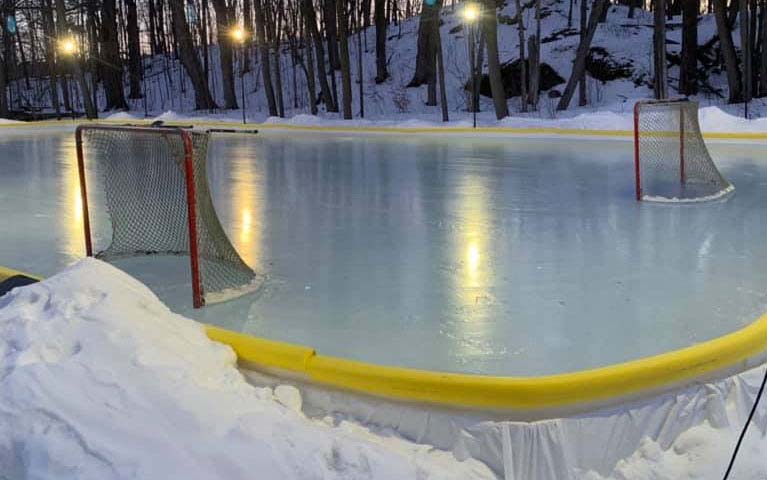 Before tennis and basketball started winning Canadian's hearts, there was ice hockey. That national pastime in which two teams battle it out on ice to shoot a rubber puck into a net. What is more satisfying than lacing up skates and hitting the ice? Why, it's having a rink right in your backyard during the hockey season for all of your family and friends to enjoy, of course!
Install a backyard rink at your home with help from Total Sport Solutions. From brackets to boards, resurfacers, liners, and rink packages, we have them all ready for you. We are here to make sure that your backyard fun is installed correctly and quickly, so everyone can get on the ice fast, sometimes in as little as two hours.
Bring New Fun to Your Hockey Scrimmage
Once it's up, what else can you do to bring more fun this winter? Consider some ways to make those backyard scrimmages more fun, even zany, including:
Bring in Some Dry Ice: Make following the puck harder as you cause a fog over the rink with dry ice. You can expect some shadows allowing for stealthy plays. Be ready to go hunting for some pucks as they will easily be lost. Bring some education into the mix as you tell your kids how dry ice is made and how it works.
Add a Disco Ball: Make a Saturday night game enchanting with a disco ball spinning around. If your figure skater needs ambiance to practice, this is the ticket as they imagine performing in front of thousands of fans.
Make a Theme: Choose a theme and have everyone dress to match. You might wind up with favourite movie or book characters. Imagine light sabers duking it out for the puck or tape flashlights to the hockey sticks, turn the lights low, and enjoy the fun.
Free Consultation for the Perfect Backyard Ice Rink
Plan zany fun and make tons of memories when you think outside the box. The experts at Total Sport Solutions, Inc. offer the best in backyard rinks and accessories. We also offer a free consultation so that you can have the perfect backyard icy haven. From brackets to resurfacer equipment, packages to rink-in-a-box, we have what you need. Visit our webpage to check out our line-up of other products like indoor sport flooring, outdoor courts, and garage flooring. Enjoy many years of indoor and outdoor activities year-round.
Total Sports Solutions is your source for backyard rinks in Canada. Call us today at 1-866-718-9178 and receive a free quote for your backyard rink installation project.