A backyard ice rink is part of the classic winter experience. Every season, you can construct an ice rink for the entire family to enjoy without the hassles of driving, paying admission, or dealing with crowds.
Backyard rinks do not have to be complicated to maintain – if you construct it right the first time.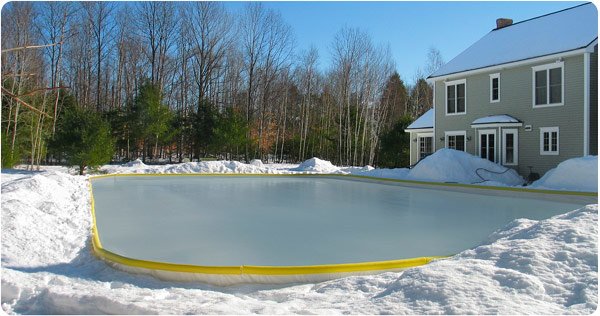 6 Considerations for Perfect Ice Rinks
You have a few decisions to make before you get started, and if you follow these steps, you can construct a rink that is easy to maintain with your schedule, and available all winter to enjoy.
Here is how you get started with ice rinks in your backyard:
Decide on Your Rink Type: You have three primary types of rinks to choose from, which are refrigerated, traditional, and liner style. The traditional is the easiest and cheapest to construct but requires extensive maintenance all season long. The liner method allows you to build a rink much faster and will give you maximum skate time. Refrigerated rinks are best and require the least amount of maintenance, but also require professional assistance, and a bigger budget.
Start Designing: Start by sketching out your rink concept. Decide the shape and size of your rink, and pick an area of the backyard that is flat. Make sure you have no obstacles that would get in the way of your rink placement, and build as big a rink as your yard permits.
Think about the Liner: A liner or tarp is not required, but helps significantly. It will save you time and water, and keep the water in place so that you can form a rink adequately.
Consider Using Boards: While rink boards are not a necessity, they are helpful like the liners. Rink boards create a border, which lets you play ice hockey outdoors with ease. Also, boards make flooding your rink easier. When you pair boards with a liner, you have a perimeter that holds your water and establishes the rink.
Purchase What You Need: Now that you have decided the size, shape, and products you want for your rink, you need to buy the materials. You have a few options when it comes to purchasing materials, including rink kits. A rink kit includes everything you need, like the liner, boards, and brackets. You could also purchase an entire rink package, which includes all materials you need to build and maintain the backyard rink.
Get Everything You Need for Your Ice Rinks from Total Sport Solutions, Inc.
Want to build the ultimate backyard rink this winter? The team at Total Sport Solutions, Inc. has everything you need.
Whether you want to purchase a rink in a box kit or a liner to get started, we have all of the supplies and expertise to build your perfect hockey rink or backyard practice area for your family's skaters.
Consider purchasing a rink package which comes with everything you need, including thermoformed sideboards, a liner, light up puck, patch tape, resurfacing tool, and a DVD with complete instructions.
Total Sport Solutions is your single source for any supplies and accessories required to build and maintain backyard ice rinks in Canada. Call us today at 1-866-718-9178 and request a free quote on your project.