Having a backyard ice rink can bring hours of fun on those cold, winter days. Whether struggling over a puck or practicing Salchows, an ice rink provides the place and opportunity to hone game skills and increase physical activity.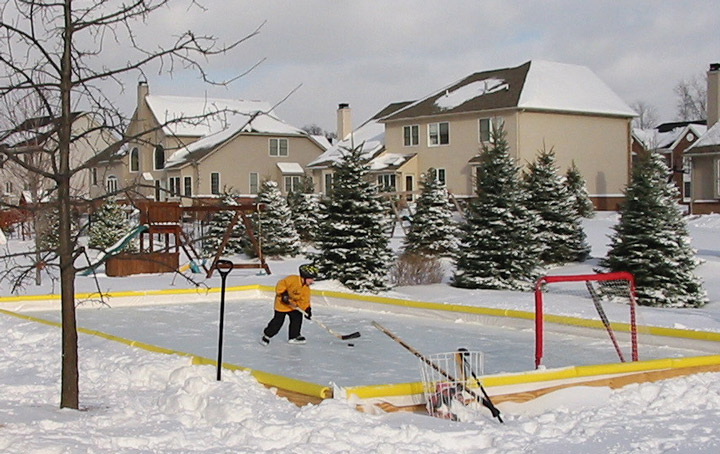 Families often struggle over building versus buying their backyard rink. If you have the time and skills to build it, then it can be a fantastic bonding activity for you and your family. If you do not have all the necessary skills, or if you lack time to build a rink correctly, then buying a backyard rink package is ideal.
5 FAQs about Your Backyard Ice Rink
No matter if you buy or build, there are specific considerations with regard to having and maintaining your ice rink.
Here are the top 5 frequently asked questions about home ice rinks:
When is it time to set up my arena? It would be easy to say, "When it starts freezing outside." It is not entirely that simple. There are many factors involved with setting up your rink, like materials you use, and the weather conditions in your area.

Here are a few suggestions:

Use a liner that prevents heat absorption from the sun but holds water. Your deep end should not be deeper than 25 cm.
Your outside boards should be light in colour to avoid additional heat absorption.
It is best to set it up just before the temperatures drop below freezing and the ground is colder. Then you will be ready to fill when the nighttime temperatures should drop between -5 to -8 degrees Celsius with daytime temperatures below 2 degrees Celsius.

How do I protect my grass from the liner? The most effective liner you can use to protect your lawn is the NiceRink white / white liner. It allows just enough sunlight to penetrate without melting your ice or destroying your yard. When you use clear, blue tarp or a black liner, you run the risk of your grass not bouncing back in the spring.
Just how big can I make my backyard ice rink? The answer depends on several factors. First, you need to determine how much space you have available. Second, you will need to think about who will be using the rink, and how many players may be on it at a time. You can go as big as your backyard space and your budget will allow.
Before installing my rink, do I have to level my yard? Your yard does not have to be level. However, you do need to know the slope of your yard before setting up the components.
Should I buy my backyard rink or build it? The answer really depends on the time vs. money factor. If you have the time and the money, then making your ice rink may be the way to go. For many, having an ice rink kit with all the essential components available, like those found in a NiceRink package, makes for quicker and easier outdoor fun.
Get to Skating on Your Backyard Rink Faster with Help from Total Sport Solutions, Inc.
Want to set up your backyard ice rink quickly and easily? The team at Total Sport Solutions, Inc. has everything you need.
Whether you want to purchase a NiceRink backyard rink package or build it yourself, we have all the supplies for your perfect backyard ice rink haven.
Total Sport Solutions is your trusted source for any supplies and accessories required to build and maintain backyard ice rinks in Canada. Call us today at 1-866-718-9178 and request a free quote for your project.