Why Pickleball, Of Course!
When it comes to summer fun, many of us like to head outdoors for some sort of activity like hiking, tennis, or bike riding. We often associate pickles with burgers and holey balls with whiffle ball, not an extremely popular game that kids of all ages can play. So, if you are ready for a new adventure that even your grandpa can participate in, pickleball can be the answer.
Enjoy this hybrid game down at your community centre, the local YMCA, or, better yet, in your backyard. When you install a multigame court, you get the best of several worlds. Not only can you enjoy a friendly, competitive game of pickleball, but also, jump rope, skateboard, basketball, 4 square, ball hockey, and shuffleboard. Your options are almost endless.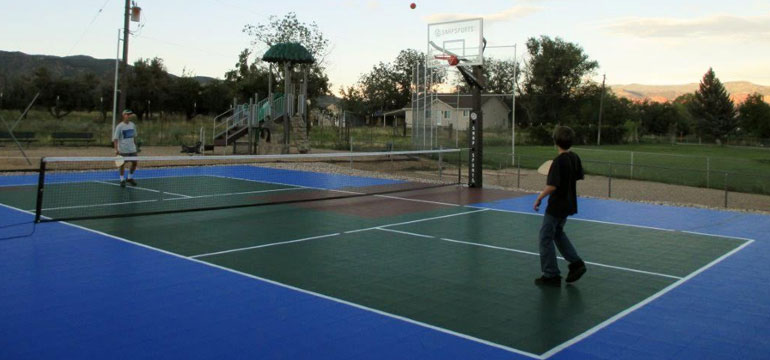 4 Reasons You Should Try Pickleball
Sports keep you active. In our current society, technology often keeps us tethered to computers, televisions, and phones. A sedentary lifestyle can be dangerous to your health. Take advantage of a fun game that takes little "talent" but is super easy for everyone to learn. Here are some reasons pickleball may be the most celebrated sport yet:
The learning curve is short. Anyone can quickly pick up on the simple rules of pickleball. Soon you will be playing and scoring in no time!
Anyone can learn. Many retirees have overlooked shuffleboard or horseshoes for this fun paddle sport. The court size is smaller, making it easier to lob the ball back and forth across the net.
Courts are everywhere and portable. Setting up a court is as easy as using an existing tennis court and some chalk or paint. Community centres are getting into the trend by offering areas dedicated to the game by using multigame courts.
Cost for entry is low. If you join a league, you might decide to put on a fancy uniform, but for the rest of us, shorts, a t-shirt, and sneakers are all the uniform we need. It would be best if you opted for some eye protection after picking up your pickleball paddle. Each piece of equipment is relatively inexpensive.
Give Your Family Outdoor Options with a Multigame Court
The most significant advantage of having a multigame court in your backyard is the opportunities you open up for your family to get active outside. You can choose from several surface options, such as Outdoor Duracourt, Outdoor Bounceback, and Outdoor ShockTower.
Pick the Best Multigame Court with Help from Total Sport Solutions, Inc.
Build character and good sportsmanship through pickleball when you choose an outdoor multigame court. Total Sport Solutions, Inc. has the expertise to assist you in making the best decision for your needs. We also carry the best in sports mats, fitness tiles, or high impact flooring. Make the most of your family time with our help.
Total Sports Solutions is your source for multigame courts in Canada. Call us today at 1-866-718-9178 and receive a free quote for your court installation project.